Women's History Month celebrates the contributions women have made to the United States and recognizes achievements made over the course of American history in a variety of fields. Womxn@Dox is committed to working closely with our allies to create a culture of inclusion and equal opportunity. Throughout the month of March, we will be sitting down with some of the inspiring women at Doximity to discuss their experiences and accomplishments that have motivated them to elevate others. This week, we interviewed Dr. Bushra Anjum, Data Lead and Analytics Manager
Featuring:
Dr. Bushra Anjum - Data Lead and Analytics Manager
Shivani Balan - Senior Marketing Director
Nancy Htay - Client Success Specialist, Hospital Solutions
Angelica F. Recierdo, MS, BSN
Elizabeth Widman, Ph.D, MSc, MApplSc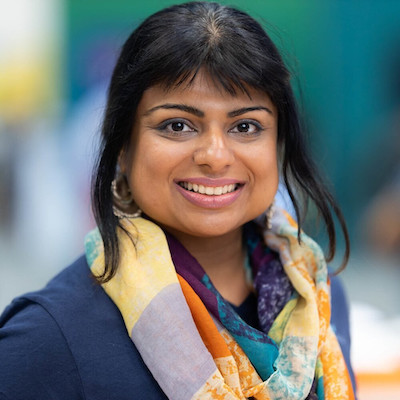 1: What does leadership look like to you?
Leadership, to me, is the act of taking responsibility for what happens next. Leaders are proactively trying to affect some change in the world, other people, or themselves. The top three characteristics of a leader, in my opinion, are as follows:.
First, leaders have an action bias based on rational optimism. Also, they overcome the fear of failure early. They drive the change and own the consequences, whether it is a success or a failure.
Second, leaders have a high degree of self-awareness. They acknowledge their world view is limited by their experience and exposure and listen deeply to others, especially those who disagree with them. They learn, adapt, and grow.
Third, leaders make new leaders. They elevate others to become their best selves. Leaders are willing to give away some of their power to others, coaching them to take ownership of their decision-making.
When I see the above, I see a leader, whether they have a title that says so or not.
2: Which women have inspired you in your life recently?
Muazma Zahid, president of Pakistani Women in Computing (PWiC) non-profit. She has a thriving career as a principal engineering manager at Microsoft. Alongside, she has taken a group of like-minded women volunteers, hailing from Pakistan, and channeled their energies into initiatives like never before, e.g., the first virtual job fair in Pakistan. Her progressive forward-thinking inspires me.
Anna Sheets, a colleague of mine at Doximity. She is a real class act! It is not just that she is brilliant at her job, which she is; it's her unruffled behavior that amazes me. No matter what the challenge is or how difficult a situation may be, she handles and communicates with absolute poise. Her empathetic yet unperturbed demeanor inspires me.
Dr. Jill Biden, our first lady. The way she responded to the Wall Street Journal op-ed asking her to "drop the Dr." title impacted me. In fact, she is one of the reasons I insisted on my title being mentioned in this piece and elsewhere, as I am also very proud of my doctorate. As Michelle Obama said, Dr. Biden wears her accomplishments with grace, good humor, and yes, pride. I am inspired to do the same.
In general, every woman who chooses to hold her own in the face of opposition, with grace and positivity, inspires me.
3: What advice would you give to younger women who are entering the workforce?
I would like to share two pieces of advice.
First, start giving back early, volunteer! Even if you consider you lack the experience or financial resources to have an impact, you have the same amount of time, the same 24 hours, as anyone else. Time is the world's most coveted resource. Use this invaluable resource to make a difference.
Volunteering is not only intrinsically rewarding, it is one of the best ways to build a strong and lasting network that shares your values. I am a volunteer at Association for Computing Machinery - Women, Computing Research Association- Widening Participation, Rewriting the Code, TechGirlz, MentorNet, to name a few and some regional groups like PWiC. Some of the most rewarding experiences in my life have been as a volunteer. This includes building trust and rapport with people who have been critical in my career growth. I would want the same for you.
Secondly, you don't have to negate parts of your personality to be perceived competent. For example, have you heard (admittedly well-meaning) statements like, "sure, humility is a good value, BUT it's time to set it aside and work on self-branding"? It doesn't have to be one or the other. You can be humble AND work on self-branding. You can be polite, flexible, and accommodating AND not let people take advantage of you. You can use "sorry" in your conversation and "just" in your emails if it is part of your politeness language AND make sure you are being taken seriously. Whatever comes naturally to you, whatever feels authentic, is ok to hold on to while still evolving to a better self. If you want to change and leave some personality traits behind, that is fine too, as long as you don't feel obligated to do so.
Here is one more "and" for you. Don't actively scan for discriminatory behavior, as that will put you too much into the fight or flight zone (thanks amygdala!), AND if discrimination finds you, fight against it with all your strength, courage, and prudence. Please understand that "and'' creates togetherness, whereas "but" negates whatever precedes it; "and" builds rapport whereas "but" creates friction. Let's all be kind to ourselves and others. Let's strive to be the "and"-maker, not the "but"-inducer.
If Doximity sounds like the place for you, check out the job board!
---