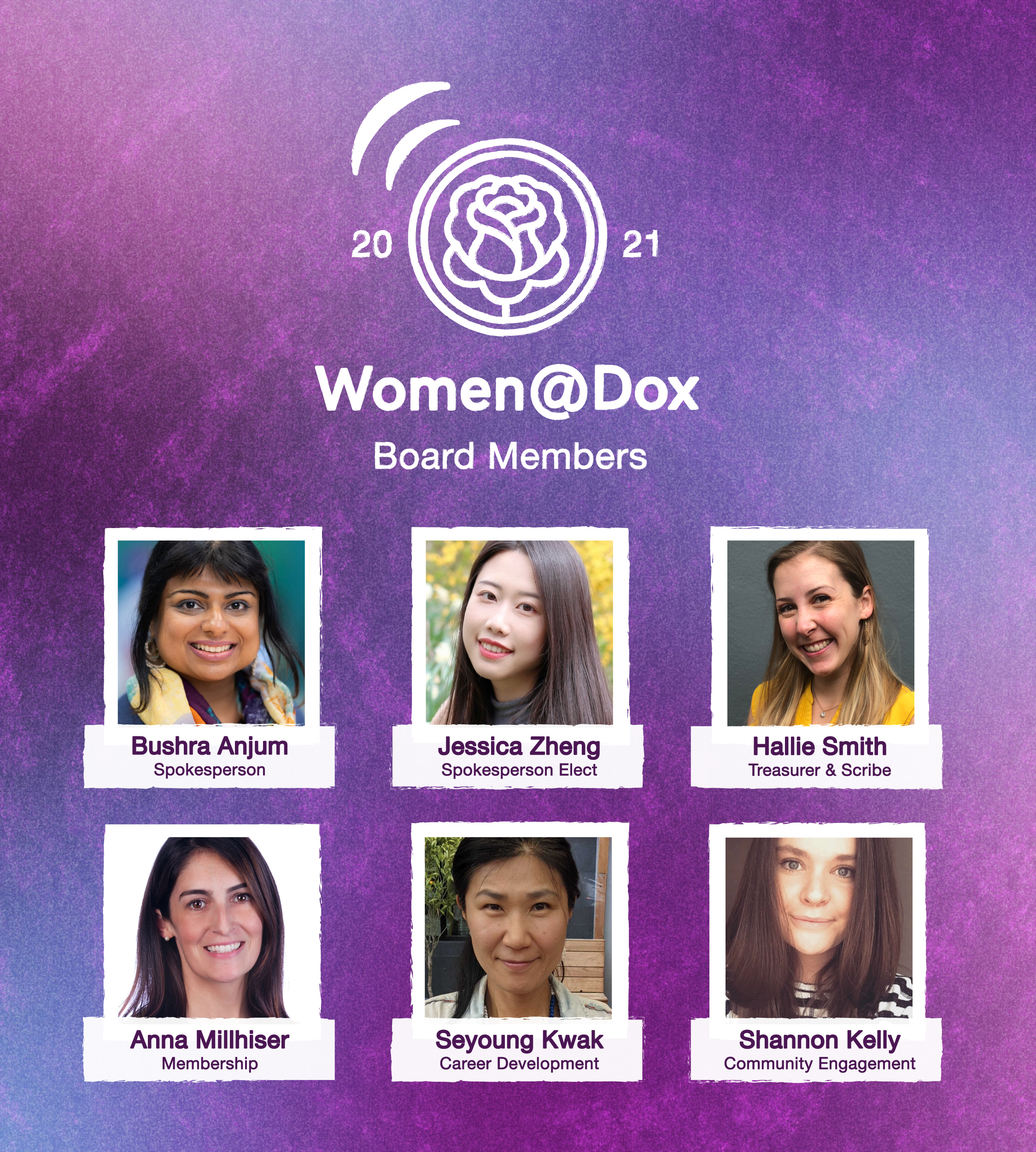 Bushra Anjum - Spokesperson
I am Dr. Bushra Anjum, Senior Analytics Manager at Doximity, and am honored to serve as the spokesperson for our Women@Dox Employee Resource Group (ERG). We are committed to building a vibrant, active community of women who support, celebrate, and advance each other, and work closely with our allies to create a culture of inclusion and equal opportunity.
We started the Women@Dox ERG in 2020 and had an eventful year with career panels, insightful presentations, family-building conversations, recognizing female leaders at Doximity (Bushra, Shivani, Nancy, Angelica and Elizabeth), movie nights, workouts, virtual social events, and WERCs (Women Empowered Roundtables Club)! Armed with the learnings of the first year and motivated by the generous positive feedback from our community, we are aiming to organize bigger and better events and activities this year.
Jessica Zheng - Spokesperson Elect
Hello, I am Jessica Zheng and I am a Data Analyst at Doximity. I'm proud of Dox's DEI culture, which provides me with a great sense of belonging. In the second month after I joined Doximity, I was surprised that I received a beautiful package for newbie ladies, which was so nice and it made my day!
As a spokesperson-elect, I will update the board event information on the wiki, enable the smooth working of the different subgroups, coordinate events, assist Bushra in conducting various tasks, and encourage healthy debate in our community. Besides these traditional responsibilities, I also plan on sparking discussion on products and services that impact women in medicine, which means our community can influence not only female Doxers but also female Doximity members.
Anna Millhiser - Membership
I am Anna Millhiser and I head up the Hospital Solutions Client Success Team. I've been so impressed with how Doximity, with its typical Get Stuff Done speed, has identified areas that need improvement and has rallied around them to build a robust framework for promoting diversity, equity, and inclusion. It is undeniable that every aspect of Doximity is stronger for having more diverse voices of our teammates. As a new mom going into a pandemic with a full-time job I am especially interested in how Doximity can support its working parents so that no Doxer feels like they need to work like they are not a parent and parent like they do not work. With this goal in mind, I am thrilled to join the Women@Dox board as the Membership Lead.
Seyoung Kwak - Career Advancement
Career path does not have to be linear. The key is to believe in yourself and be ready to be vulnerable. My path to Software Engineer at Doximity was unconventional, to say the least. I studied Mathematics and Chemistry and have a masters degree in Commerce and it involves 4 countries, over 5 different career fields. I am a big fan of learning new things and sharing my ideas. I am excited to be a member of the Women@Dox Board. Being part of such a great team of people who are all working towards the same mission has been a really wonderful and amazing experience.
Shannon Kelly - Community Engagement
I am Shannon Kelly, a Client Success Manager at Doximity working with brands such as GSK, DSI, Nestle, and more to curate sponsored content. Doximity cultivates a culture that offers different events, groups, andSlack channels for everyone to interact with. As the Community Engagement chair, I hope to continue to provide events and an environment that encourages open dialogue, participation, and support from all the strong women at Doximity.
Hallie Smith - Treasurer & Scribe
My name is Hallie Smith and I am an Editorial Manager at Doximity. In my day-to-day, I oversee Op-Med, where we lift clinicians' voices and create a community to talk about the good, the bad, and the hard topics in medicine. When I originally joined Women@Dox, I was looking for a community of my own, somewhere I could be welcomed as myself, but also challenged to grow as a person. I hope over the next year our team continues to improve on making Doximity a space for people to be their full selves while challenging each other to search for ways to lift more voices.
Have feedback, comments, or suggestions? Email womenboard@doximity.com or contact Bushra directly.
---