We'd like to celebrate Black History Month by spotlighting our Black Doximity employees. This week, we interviewed Rashaunda Guy-Callum, HTML Content Producer, Pharma CS from Georgia.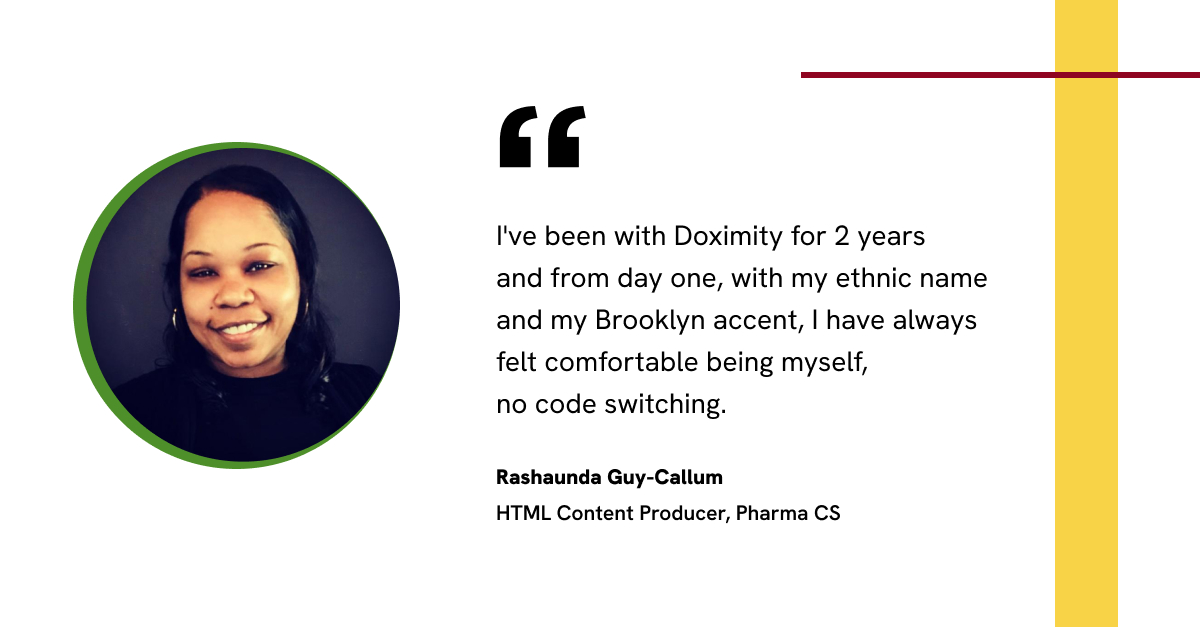 What does Black History Month mean to you?
It means a time where we can seek out and celebrate all the lesser known achievements that Black people have made in this country. Of course this should just be a huge part of American History, but I think having a month dedicated to Black history forces us to search for information on Black history that we normally wouldn't even think about.
How has BIPOC@Dox influenced your experience at Doximity?
BIPOC@Dox has given me an outlet to speak about and learn about other people of color's experiences, struggles and accomplishments in the world. All around BIPOC@Dox has great vibes whether it's getting to know someone or attending a watch party. Although Doximity is very supportive and welcoming, BIPOC makes me feel even more included.
All around BIPOC@Dox has great vibes whether it's getting to know someone or attending a watch party.
How does Black History influence your professional or work life?
Black history influences my life by showing me that people that look like me have achieved far beyond what I was taught during the rest of the school year. The rest of the school year, Black kids are shown a history where the only role their ancestors played were as slaves. Black history month reminds us that we have contributed so much to this country. Not only as slaves but also as leaders, doctors, inventors, engineers, and so much more.
Are there any historical figures or current leaders that you want to acknowledge?
| | |
| --- | --- |
| I would like to acknowledge Madame CJ Walker, who was not only a rarity as a Black millionaire in her time, but she was also the first American female self made millionaire. She is a pretty popular figure during this month, however, her impact on me has been profound. Reading about her during this month as a child really broadened my perspective. Growing up poor in the projects, I never knew that it was possible for someone like me to actually be a millionaire. After reading her story, and understanding what she did in her time, I knew that it was not only possible but it would definitely be a milestone I will reach in my lifetime. Ever since then, she has been a staple in my mind of a goal that I can achieve. And when I'm standing in spaces where most of the people don't look like me, because of her I've learned not to let the imposter syndrome hold me back but let me shine because I/we do belong here! | Madam C.J. Walker, the first self-made U.S. woman millionaire |
What would you say to potential Black candidates interested in Doximity?
This is an amazing company to work for and is literally the first place that I felt I can be my true self. I've been with Doximity for 2 years and from day one, with my ethnic name and my Brooklyn accent, I have always felt comfortable being myself, no code switching. Everyone is super nice, helpful and welcoming. The things that have been a source of ridicule at other jobs like my name and accent, have been something either celebrated or just not even a thing at all. This company truly lets you be you and let your uniqueness shine. After working here, I can guarantee that you'll love this job!
How do you feel you are making a difference at Doximity?
I feel like I'm making a difference by referring great candidates in my network. Since I've started, four other people of color have been hired on my team. Two were my referrals and the other two were referrals of those two that got hired. Doximity is really trying improve the representation of people of color amongst employees . . . I feel like I have definitely helped to contribute to that mission, and I look forward to continuing on that path and referring many more qualified candidates that may not have been aware of this amazing company.
We're always hiring and we'd love to hear from you! See our open positions across all departments, including Product, Engineering and Finance.
---