Asian American and Pacific Islander (AAPI) Heritage Month celebrates the contributions Asian Americans and Pacific Islanders have made and recognizes their achievements in a variety of fields. BIPOC@Dox is an employee resource group committed to fostering a culture of equity and inclusion for AAPI Doxers and all Doxers of color, especially during challenging times. We had the opportunity to catch up with a couple of Doxers who belong to AAPI communities to discuss identity and solidarity at work.
Manny Cercado, Technical Product Manager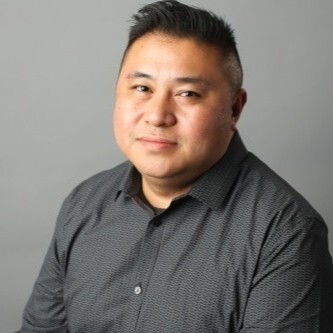 1: How do you bring—or strive to bring—your full self to work?
It's pretty easy to do this at Doximity since the company culture encourages
everyone to bring their genuine self to work. I know that as a Filipino American bringing my genuine self to Doximity everyday, I can help build bridges between my community and others.
2: What does workplace allyship look like to you?
Really good allyship to me comes in the forms of recognition of privilege, voice amplification, and inclusivity. As a man, I recognize that I have male privilege, especially working in tech. So everyday, I lean into my male privilege and help create a safe space for women, gender non-conforming colleagues, and other underrepresented minority groups within Doximity. By doing this, everyone has the opportunity to be themselves and focus on our work in the health tech industry.
Voice amplification is something easy that folks can do to help out minorities within their organization. I usually bring up meaningful wins/highlights of my colleagues who are minorities, in Slack or in meetings within our product and engineering teams. This brings visibility to them and casts them in a positive light in front of everyone, giving them confidence in their work that will help them from project to project.
When you build a safe space for folks at your company, that will foster inclusive ideas among your teammates that can be very powerful. Inclusivity can have such a positive impact on your products that your company develops. By having such a diverse team you can root out negative edge cases that can be harmful to some of your users and you'll be able to determine features you can be building for everyone since your team now has different lenses.
3: How are you taking care of yourself during challenging times?
I have been leaning on my closest friends and family. They have been my support group through this pandemic and the current anti-Asian climate. They provide me love and support to get through the roughest days.
I also look to the other communities (Asian American and LGBTQ+) that I am part of, not only for support, but to help out others who identify similarly as me. I educate myself more to get through the current climate, so I know where I can help out within those communities. Learning more about Asian American and LGBTQ+ civil rights has helped shape me this year into a more empathetic person.
4: How can AAPI communities and all communities of color benefit from solidarity?
What some people may not realize is that all of our civil rights/human rights are tied together. There is no AAPI liberation without Black liberation, Indigenous liberation, and Latinx liberation. All of our communities are oppressed (some more than others) by the same system— white supremacy. White supremacy is an inherent system of oppression that pits communities of color against each other and the only way to dismantle the system is through mutual aid and mutual work.
If Doximity sounds like the place for you, check out the job board!
Interview conducted by Angelica Recierdo
Banner image created by Hannah Gambino
---